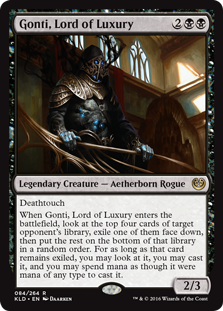 Aetherborn is a creature type.
Details
The Aetherborn creature subtype firstly was introduced to Magic: The Gathering with the Kaladesh set in September 2016.
Aetherborn cards are black-aligned and depict humanoid creatures made from aether.
Lore
Aetherborn came into being spontaneously as a byproduct of the aether refinement process. Their bodies are in constant flux, as the aether residue they're made of gradually dissolves and is reclaimed by the aethersphere. Thus, their lives are short. But rather than despair, they savor each fleeting moment, squeezing out every last drop of enjoyment.
In other languages
Language or script
Title
Romanization
French

Éthérien
German

Äthergeborener
Italian

Eteride
Portuguese

Etergênito
Spanish

Etergénito
Ad blocker interference detected!
Wikia is a free-to-use site that makes money from advertising. We have a modified experience for viewers using ad blockers

Wikia is not accessible if you've made further modifications. Remove the custom ad blocker rule(s) and the page will load as expected.