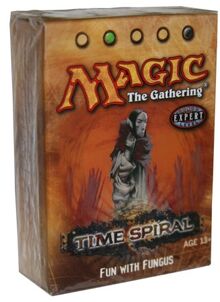 Fun with Fungus is Black/Green theme Deck from Time Spiral. It contains 60 cards, a random Time Spiral ProTour Player Card, a Strategy Insert, and is ready to play.
The back of the box Reads:
Thallids are sentient, mobile fungus creatures that share a symbiotic relationship with saprolings. Tallids do exactly the same two things: spread and consume. Aided by Thelon of Havenwood, they're doing both quite well. In the wake of an apocalypse, what would thrive better than mild?
Decklist
Ad blocker interference detected!
Wikia is a free-to-use site that makes money from advertising. We have a modified experience for viewers using ad blockers

Wikia is not accessible if you've made further modifications. Remove the custom ad blocker rule(s) and the page will load as expected.