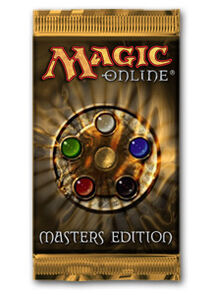 Masters Edition is a 195 card, Magic Online only set of some of the greatest cards from magic's past. All cards of this set have appeared in pre-mirage Magic sets and appear(ed) with their original artwork and old-style frames.
Planned for an on-sale on 10 September 2007, the masters Edition is/was on sale for a limited time and then removed from the products offering. It's only sold as a Booster Pack. Booster packs are/were sold for $3.99 each and available in the Magic Online store starting September 10.
There was a special Masters Edition-related Oracle update shortly before the product went on sale.
Masters Edition cards will be legal in the Classic format and any format that uses Classic to define card legality. Premium cards are/were inserted at roughly the same rate as they are in Tenth Edition as well, at a 1:56 ratio.
Ad blocker interference detected!
Wikia is a free-to-use site that makes money from advertising. We have a modified experience for viewers using ad blockers

Wikia is not accessible if you've made further modifications. Remove the custom ad blocker rule(s) and the page will load as expected.