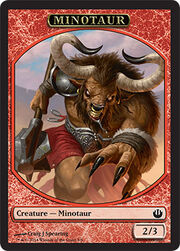 Minotaur is a creature type.
Details
In other languages
Language or script
Title
Romanization
French

Minotaure
German

Minotaurus
Italian

Minotauro
Portuguese

Minotauro
Spanish

Minotauro
Russian

Минотавр
Minotavr
(GOST 2002)
Japanese

ミノタウルス
Minotaurusu
(Hepburn)
Korean

미노타우로스
Minotauroseu
(Revised romanization)
Simplified Chinese

牛头怪
Niútóuguài
(Pinyin)
Traditional Chinese

牛頭怪
Niútóuguài
(Pinyin)
Ngau4 tau4 gwaai3
(Jyutping)
Ad blocker interference detected!
Wikia is a free-to-use site that makes money from advertising. We have a modified experience for viewers using ad blockers

Wikia is not accessible if you've made further modifications. Remove the custom ad blocker rule(s) and the page will load as expected.