Nahiri the Lithomancer is a planeswalker that was a part of the Three.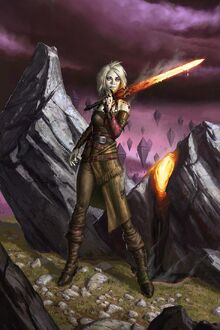 The Three decided to force the Eldrazi into physical form and trap them on a plane, sacrificing that plane for the well-being of the Multiverse. They searched for a plane with lush ecosystems and uniquely dynamic mana—a powerful lure for the Eldrazi's insatiable hunger. They found Zendikar. Sorin Markov lured the Eldrazi to the plane, directing their hunger to that unique mana, Ugin used his invisible breath to combat the Eldrazi and his colorless magic to bind them to the plane, and Nahiri constructed a massive network of stone hedrons, whose power would form the bars of a planewide prison, forever preventing the Eldrazi from leaving. Ugin arranged the hedrons to direct leylines of energy, which were not to be disrupted.
The planeswalkers concentrated the power of their imprisonment spell in a secret location deep inside Zendikar's mountains of Akoum: a subterranean chamber called the Eye of Ugin. To make sure that the imprisonment would not be broken, the three planeswalkers sealed the chamber with a mystical lock: the Eye of Ugin could only be reactivated by the presence of three planeswalker's sparks — and the colorless, invisible breath of Ugin, the spirit dragon himself.
The planeswalkers' trap worked. Emrakul, Ulamog, and Kozilek manifested in physical form on Zendikar, became confined by the magic of the network of hedrons, and thanks to the magic of the imprisonment spell, sank into harmless dormancy. Their mission complete, the planeswalkers disbanded and left the plane.
The wild mana of Zendikar lured other beings to the plane as well, and Nahiri took it upon herself to protect Zendikar from those who would cause it harm. Of those, the most infamous was the interplanar conqueror Ob Nixilis, but before he could do much damage, Nahiri intervened and bound his power with that of a hedron.
6000 years later the Eldrazi broke free, and the three that released them consisted of Sarkhan Vol, Jace Beleren, and Chandra Nalaar. . In reaction, Sorin tried to reassemble The Three but was unable to find Nahiri. He found Ugin dead on Tarkir.
Ad blocker interference detected!
Wikia is a free-to-use site that makes money from advertising. We have a modified experience for viewers using ad blockers

Wikia is not accessible if you've made further modifications. Remove the custom ad blocker rule(s) and the page will load as expected.