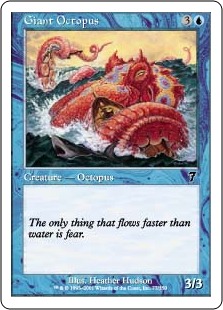 Octopus is a creature type.
Details
They are a water-dwelling eight-armed creature. In legends in our world they have always been portrayed as terrifying creatures that can be a force to be reconed with.
In Magic
Only two octopi have been made to date. The first is Giant Octopus and the second is Lorthos, the Tidemaker.
They are particularly renouned for sinking ships.
In other languages
Language or script
Title
Romanization
French

Pieuvre
German

Oktopus
Italian

Piovra
Portuguese

Polvo
Spanish

Pulpo
Russian

Спрут
Sprut
(GOST 2002)
Japanese

タコ
(蛸)
Tako
(Hepburn)
Korean

문어
(文魚)
Mun-eo
(Revised romanization)
Simplified Chinese

章鱼
Zhāngyú
(Pinyin)
Traditional Chinese

章魚
Zhāngyú
(Pinyin)
Zoeng1 jyu4
(Jyutping)
Ad blocker interference detected!
Wikia is a free-to-use site that makes money from advertising. We have a modified experience for viewers using ad blockers

Wikia is not accessible if you've made further modifications. Remove the custom ad blocker rule(s) and the page will load as expected.