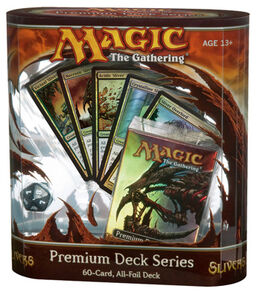 Premium Deck Series: Slivers will be available world-wide in English only, and will have a limited print run.
Each card will be a black bordered foil and tournament legal. This means that these cards are legal for use in any tournaments where the original printings are still legal.
Deck Design and Development Team: Ken Nagle and Mike Turian Release date: November 20, 2009
Ad blocker interference detected!
Wikia is a free-to-use site that makes money from advertising. We have a modified experience for viewers using ad blockers

Wikia is not accessible if you've made further modifications. Remove the custom ad blocker rule(s) and the page will load as expected.